State of the art Michigan Hillbilly Gospel. Get your free copy of the latest release from the Gardners. That's right, we're trying to give away a CD to anyone that wants one. Download all of the songs from this page. (please include tracks 14 &15 too) Or purchase a $15 copy featuring full color photos of all the musicians in a premium jewel case autographed by the Gardners.

Notes on downloading. Click on the link to download the file, and save it to your computer. Depending on your set-up, you might need to right click or hold down your mouse button and select "Save As..." or "Save Target As..." in the menu that pops up.

If a player application such as Windows Media Player starts to try to play the file before you have downloaded it you need to start again and make sure you get to Save the mp3 to your computer.


1. Where the Roses Never Fade, Elsie, Jack & Jim, 2:30
2. What a Day, 2:36
3. Near the Cross, Fanny J Crosby & W. H. Doane 3:59
4. Lord, Build Me A Cabin in Glory, Cpl. Curtis Stewart 2:32
5. He Touched Me, William J Gaither, 2:39
6. Daddy's Hands, Holly Dunn, 2:52
7. Consider the Lilies, the Hemphills, 3:57
8. Just Praise the Lord, Bill Beaty, 3:48
9. God on the Mountain, Tracey Dartt, 2:50
10. Mansion Over the Hilltop, Ira F Stamphill, 3:15
11. I Call it Home, Squire Parsons, 2:43
12. Borrowed, Jan Buckner & Virginia Collins, 2:59
13. Follow Me, Ira F Stamphill, 3:07
14. Credits
15. Contact Information

Connie Gardner: Lead Vocals
Jeff Gardner: Guitars, Basses, Banjo, Percussion & harmony vocals
Lynn Truman: Dobro
Mark Cooper: Keyboards and Background vocals
Pam Bowman: Hammered Dulcimer and Background vocals
Bill Cooper: Background vocals
Sandy Cooper: Background vocals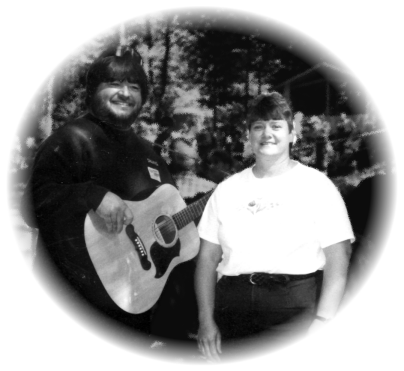 Connie making her contribution to the new album.
Autographed Artwork and Jewel cases are available here for $15 each. The sale of the artwork will help to finance the duplication and distribution of the free CDs.
inquire here to seek permission for commercial use of any music featured on this site